Inviting Friends and Supporters to "Autumn Celebration II" on Nov. 10
Join us for a celebration of all that we have accomplished this year in our restoration work on the Hungarian Cultural Garden.
On Tuesday, November 10, 2009 we welcome all of our friends and supporters to join us at St. Emeric Church at 6:00 pm for our second annual Autumn Celebration social and potluck dinner.
Attendance is free and open to our supporters, but we ask that you RSVP by November 4 and bring a covered dish or a bottle of wine to share with the other guests.
Thank you for a job well done in 2009!
Posted by Editor at 10/23/2009 4:11 PM
Garden Clean-Up Work Day on October 24th
On Saturday, Oct 24 from 9 to 3 PM, there is a scheduled work day at the Hungarian Cultural Garden. This will be our last organized garden clean-up until the spring of 2010.
The garden is looking great and we need to do all that we can to prepare for next year. The more that we can do with volunteer hours the more of our money can be spent on major rebuilding of structural elements. Remember that our garden is 71 years old and age and weathering has taken their toll.
Come to see the new garden and walkways that Ernie Mihaly and Ed Radick recently completed. This year we also have a new Hungarian Cultural Garden sign on MLK in addition to the sign on East Blvd.
If you cannot work, come anyway to help us supervise some young volunteers from Cleveland State who will be arriving on Saturday at noon. They will come willing to work, but need supervision, tools, and specific directions to follow.
Ed Radick says there is a lot of work, enough for an army of volunteers!
We plan on working even if it is raining lightly. Should we have very bad rain, we'll reschedule for better weather.
Please bring gloves and garden tools with you, like rakes, shovels, hand pruners, etc. We should be able to clean and get the entire Garden ready for Winter.
We hope to see all our friends and supporters
Concert in the Garden Features Liszt Music Performances
Work on the Hungarian Cultural Garden started in 1934 with the dedication of a plaque commemorating Liszt on the occasion of the 123rd birthday of Ferenc Liszt.

In the spirit of the grand music of this great composer, come and enjoy the newly rededicated garden and see its splendor at the height of Summer. The "Concert in the Garden" program is free and open to the public and supporters of the Hungarian Cultural Garden.
The "Concert in the Garden" will be held Sunday, August 2, 2009 in the Hungarian Cultural Garden from 2:00 to 4:00 PM. Download the "Concert in the Garden" flyer for complete details.

(In the event of rain, the rain date is August 9 from 3:00 to 5:00 PM.)

In addition to the concert, there will be a tree planting ceremony to replace the dogwood trees following the original garden design from 1938.
Join us to savor the soothing natural sights and trill to the music of Liszt! Bring a blanket or chair and a picnic basket and enjoy the entire afternoon!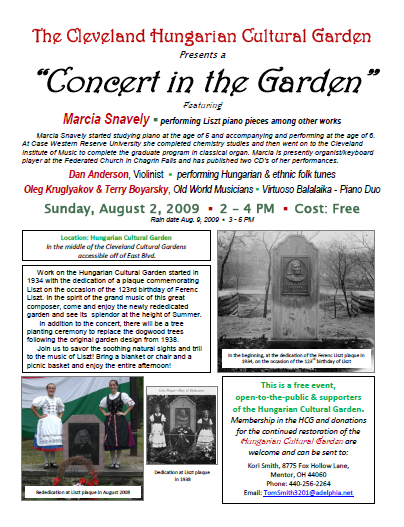 Golf Outing 2 Fund Raiser on August 19 at Shaker Heights Country Club
After a hugely success golf outing fund raiser last year, the Hungarian Cultural Garden committee has planned its second outing, this year to be held at the beautiful Shaker Heights Country Club.
Come and spend the day playing golf followed by a reception and dinner at the end of day for an all-inclusive golf package, reception and dinner price. The option is also available for those who will not be golfing to just attend the reception and dinner. Either way, the proceeds of the fund raiser will go toward the continued renovation of the Hungarian Cultural Garden, restoring it to its original 1938 magnificence.
Opportunities to be Title Sponsor, Corporate Sponsor and Donor are available. The committee is seeking support from the business community in achieving its goals. Inquiries and support are encouraged. Other options are also available.
Download the
Golf Outing 2009
brochure for complete details and pricing. Hurry, because time is short and August 19 is quickly approaching! This event promises to be an outstanding, fun and worthwhile one, so plan to attend to help in the renovation of the Hungarian Cultural Garden.
The Great International Gulyás Cook-Off Coming June 21
On Sunday, June 21, 2009, The Cleveland Hungarian Cultural Garden presents "The Great International Gulyás Cook-Off" where you and your family can sample from many different varieties of Hungarian gulyás, or goulash as most Americans know it.
Starting at noon at St. Emeric Church, the Gulyás Cook-Off is being held to benefit the on-going restoration and renovation of the Hungarian Cultural Garden, which was rededicated last year on the occasion of its 70th anniversary.
Are you a guly ás chef? Enter as a chef and show everyone your great gulyás!
Download this form and be one of our chefs
Make Father's Day special this year by treating the father in your life to a tasty gulyás meal while doing your part to preserve a Cleveland Cultural Gardens landmark and promote the contributions of Hungarians to world peace.
Download the
Gulyas Cook-Off flyer
here and make your reservation today to save over the door admission price.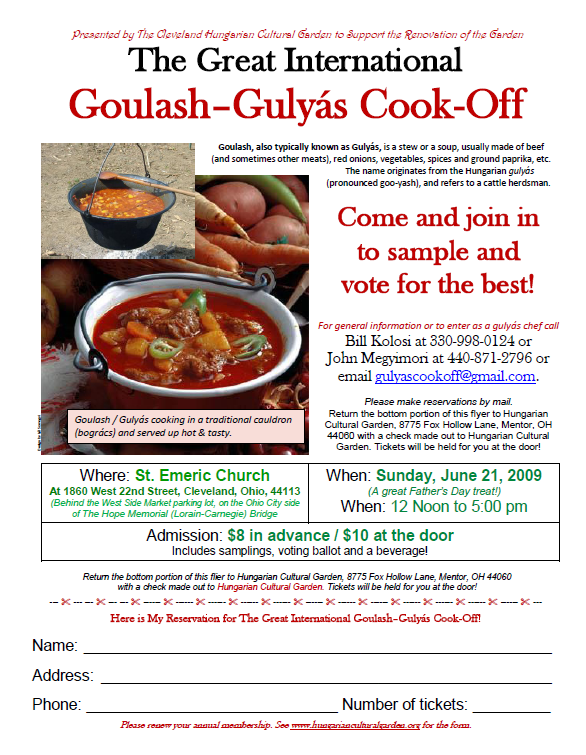 Hungarian Cultural Garden Featured in Baldwin Wallace Course on Cleveland Cultural Gardens
On April 23, 2009, the Hungarian Cultural Garden will be the topic of discussion at the third of six sessions in a special Cleveland Cultural Gardens course at Baldwin Wallace College, East, located at the Landmark Center college campus in Beachwood, OH.

Mary Hamlim, Executive Secretary of the Cleveland Cultural Garden Federation, will be teaching the course, which begins on Thursday April 2, 2009 and runs through Thursday, May 14. Classes will be held as part of Baldwin Wallace's Institute for Learning in Retirement (IRL) program (http://homepages.bw.edu/ilr/).

Insights regarding the history of the Hungarian Cultural Garden will be presented by guest lecturer Lél F. Somogyi, who was keynote speaker at the Rededication of the garden in August 2008 and is part of the cultural garden oral history project of CSU.

For more information about the course, including enrollment information, contact Mary Hamlin at mwhamlin@adelphia.net or call at 440-461-2533.
HCG to Host "Spring F!ing II" Wine Tasting Fundraiser
by Lél F. Somogyi
It's that time of year again. As Spring approaches, the Hungarian Cultural Garden team is again beginning its work on the garden.
Last year's wine tasting event was a huge success. "Spring F!ing II" promises to be just as much fun (but probably more). Planned for April 3, 2009, it will be held at Colonial Beverage, voted one of the best wine shops around.
Plan now to attend because space is limited and time is short. Download the full color
Spring F!ing II flyer (click here)
.
Call for Membership and Donations - 2009 Hungarian Cultural Garden Brochure
The Hungarian Community has one of the largest gardens in the Federation of Gardens. Just published, the 2009 version of the Hungarian Cultural Garden brochure tells the brief history of the this garden and provides an opportunity for anyone, individually or through an organization, to help support the ongoing work of restoration and renovation.

As written in the latest version of the HCG brochure (click to download):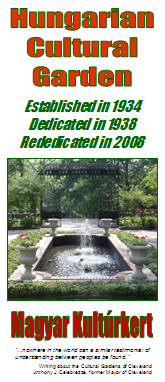 We have the responsibility to do what we can to preserve and renovate this priceless treasure. Although we have started the work of renovation, and rededicated ourselves and the Hungarian community to doing it, we still have much work ahead of us to repair the many decades of deterioration. The 70 years of weathering and inaction took a severe toll on our beautiful garden.

In preparation for the rededication of the Hungarian Cultural Garden on August 24, 2008 on the occasion of its 70th anniversary, we were able to make significant headway in removing overgrowth and stabilizing some of the main structural elements.

There is still much to do to renovate the garden to its previous grandeur. We need your help and donations to keep going on our work to eliminate the deterioration. We started Phase I, weed and overgrowth control, in late 2007. We completed a major structural repair project in late 2008. There is still a lot of work that needs to be done this year and in coming years.

We have a number of fundraising events planned over the coming months to help finance the urgently needed work.

Wine Tasting ‒ April 3, 2009
Gulyás Cook-Off ‒ June 21, 2009
Liszt Program ‒ July 2009
Golf Outing ‒ August 2009

Your Membership & Donation Helps Preserve & Renovate Our Hungarian Cultural Garden

Join the many Hungarian individuals, families, organizations, clubs, and churches of Greater Cleveland in supporting the preservation and renovation of the Hungarian Cultural Garden, since 1938 a living symbol of the culture, history and contributions of Hungarians to America and the world. We need your support!

Csatlakozzunk minél többen ehhez a közös munkához, mert ha mi nem tartjuk fenn örökségünket, akkor más nemzet könnyen átveheti tőlünk. Őrizzük és ápoljuk a Magyar Kultúrkertet, kultúránkat és hagyományainkat! Kérjük a clevelandi magyarságot és a Clevelandban működő szervezetek, egyházak és egyesületek támogatását!

Download the Hungarian Cultural Garden (HCG brochure) brochure and please send in your membership and donation.
HCG Participates in CSU Oral History Focused on the Cleveland Cultural Gardens
by Lél F. Somogyi
CSU's Department of History has a project underway to expand the information it has about the history of the Cleveland Cultural Gardens. Along with representatives from other communities, I was invited to participate on behalf of the Hungarian Cultural Garden.
You can hear the full 54 minute interview here
Download | Duration: 00:56:52
Eventually you will be able to find all or part of the interview on the
www.culturalgardens.org
website as well.
According to Erin Bell, the Project Coordinator and Archivist at the Center for Public History and Digital Humanities at Cleveland State University, in email preceeding the interview, "We are ready to conduct a new round of oral history interviews with the folks from the Cultural Gardens Federation, as well as with other community members who have been or continue to be involved in specific gardens."

The interviews were recorded in sound studios on the CSU campus by trained oral history specialists. They will be published to CSU's digital archives for the benefit of students and researchers. Additionally, highlights from each interview will be edited and posted on the Cultural Gardens website to add to that rich community resource.

Bell noted that Professor Mark Tebeau of CSU's Department of History has been interested in the Cultural Gardens for several years now and has collected dozens of oral history interviews on the subject, producing an excellent website at www.culturalgardens.org, which features historical descriptions, archival images and oral history audio for individual gardens.

The goal of this most recent work is supplement the audio record that is lacking for many of the Gardens.


Posted by Editor at 3/6/2009 11:26 AM